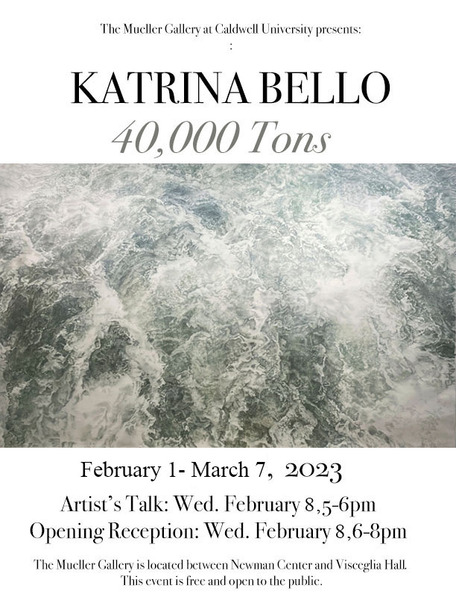 Katrina Bello: 40,000 Tons
February 1 – March 7, 2023
Artist's Talk: Wednesday, February 8, 5-6pm
Opening Reception: Wednesday, February 8, 6-8pm
An essay for the exhibition has been written by Francisco Lee, titled
A Weight in Dust
The Mueller Gallery at Caldwell University is pleased to present
Katrina Bello: 40,000 Tons
The title of the exhibition
40,000 Tons
is in reference to the volume of cosmic dust that falls on planet Earth annually. In addition, using photography, botany and research in Earth sciences as source material for her work, in the last three years Bello began looking into astronomy and astrogeology and especially at images sourced from NASA land and space-based observatories. This research eventually led to an interest in abiogenesis, the theory of the genesis of Earth.
This cosmic dust became, for Bello, a metaphor for her process of working with crushed pastel powder on paper. Bello utilizes this medium to be a focused and tactile way of representing the patterns and forms found in tree bark. rocks and ocean waters. She also uses scale – making work that measure 5 by 8 inches or 5 by 8 feet - to create, for the viewer, either a sense of monumentality or intimacy in relation to the landscape.
When in the studio, questions about Bello's place, effect and purpose in the natural world occupy her thoughts. These questions come from her experience of migrating from coastal environments in the Philippines that have undergone dramatic change and where some parts no longer exist.
Katrina Bello
is a visual artist whose work is informed by observations and experiences of natural environments encountered during the course of migration. She has participated in solo and group exhibitions in the United States and the Philippines, and has been awarded fellowships and residencies in the United States. She has participated in solo and group exhibitions both nationally and internationally. Recently, she received a Mid Atlantic Arts Foundation Creative Fellowship for a residency at Millay Arts. She is an upcoming artist-in-residence at the Tusen Takk Foundation in Leland, MI and Helene Wurlitzer Foundation in Taos, NM. Katrina received a BFA from the Mason Gross School of The Arts at Rutgers University and a MFA from the Maryland Institute College of Art. Katrina is the founder of North Willow, an informal artist-run space that is dedicated to site-specific installation art. She lives and works in Montclair, NJ.
The Mueller Gallery
Caldwell University
120 Bloomfield Ave.
Caldwell, NJ 07006
973-618-3238
www.caldwell.edu/gallery
Map and Directions
Hours: Monday - Saturday, 10am - 4pm